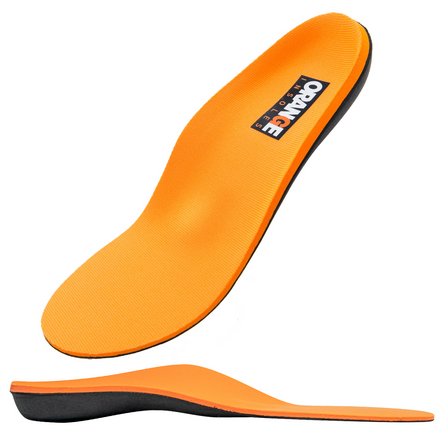 Orange Full Length Insoles - Unisex
This insole provides a unique combination of support and cushioning.  The full shoe inserts are built with a deep heel cup, metatarsal pad, and medial arch support that is made to replace the shoe's current removable liner.
Complete Support for a Variety of Injuries

Heel Pain
Hip Pain
Plantar Fasciitis
Knee Pain
Lower Back Pain
Shin Splints
Neuromas
Achilles Tendonitis
& more!

With Orange Insoles, we can help you reduce pain and help alleviate symptoms of common conditions. Please consult a medical professional for an official diagnosis.
Shipping & Returns

It's on us! FREE shipping on all purchases and FREE shipping on returns and exchanges.
Care Instructions

Orange Insoles should be cleaned with a mild soap (dish soap) and a light brush.  After scrubbing, allow the insoles to air dry.
How Often to Replace?

It is recommended to replace your Orange Insoles every 1-2 shoe lives.  You can also check your Orange Insoles to see if there is still rigidity in the medial (inside) arch.  
Orange Guarantee

We proudly offer a 60 day guarantee and free shipping on returns. If you are unsatisfied, please contact us at [email protected] or (517) 349-3790
What Makes Our Tech Better
Discover why Orange Insoles are the industry leading solution to foot comfort.
THE ORANGE GUARANTEE
THE ORANGE GUARANTEE
THE ORANGE GUARANTEE
THE ORANGE GUARANTEE
THE ORANGE GUARANTEE
THE ORANGE GUARANTEE
THE ORANGE GUARANTEE
THE ORANGE GUARANTEE
THE ORANGE GUARANTEE
THE ORANGE GUARANTEE
The Orange Guarantee
We are confident that you will feel better and do more with Orange Insoles. We proudly offer a 60 day guarantee and free shipping on returns. If you are unsatisfied, please return the insoles to your vendor with your sales receipt. If you purchased them through this website contact us directly: [email protected] or call 517-349-3790